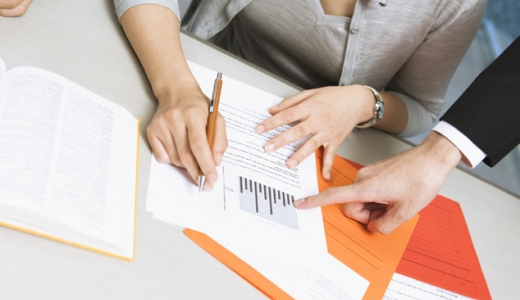 Deskripsi
Balanced Scorecard didefinisikan oleh Manajemen sebagai Kinerja/ Performance dan metode pengukuran dari kegiatan yang dilakukan manajemen untuk mencapai hasil yang diinginkan. Balanced Scorecard menterjemahkan Misi dan Visi perusahaan menjadi seperangkat tujuan dan ukuran kinerja yang dapat diukur dan dinilai.
Pengukuran ini biasanya termasuk kategori performance sebagai berikut :
• Financial Perspektif – Kinerja keuangan (pendapatan, penghasilan, pengembalian modal, arus kas);
• Costumer Perspektif – Nilai Performance Pelanggan (market share, pengukuran kepuasan pelanggan, loyalitas pelanggan);
• Internal Process Perspektif– Performance proses bisnis internal (tingkat produktivitas, pengukuran kualitas, ketepatan waktu);
• Innovation performance – kinerja Inovasi (persentase pendapatan dari produk baru, saran karyawan, indeks improvement);
• Employee performance – Kinerja karyawan (moral, pengetahuan, turn over, penggunaan best practices). Inovasi & Kinerja Karyawan sering juga disebut Learning & Growth Perspektif.
Metodologi
Untuk membangun dan menerapkan Balanced Scorecard, Manajemen harus:
Mendefinisikan visi dan strategi bisnis;
Mengidentifikasi kategori kinerja yang terbaik yang berhubungan dengan visi dan strategi bisnis. (contoh: kinerja keuangan, operasi, inovasi, kinerja karyawan);
Menetapkan sasaran yang mendukung visi dan strategi bisnis;
Mengembangkan standar pengukuran yang efektif, dengan menggabungkan target jangka pendek dan target jangka panjang;
Memastikan penerimaan seluruh perusahaan terhadap standar pengkuran tersebut;
Membuat anggaran, sistem penelusuran, sistem komunikasi, dan sistem penghargaan yang tepat;
Mengumpulkan dan menganalisis data kinerja serta membandingkan hasil aktual dengan hasil yang diinginkan;
Melakukan tindakan untuk menutup gap yang terjadi.
Penggunaan
Balanced Scorecard umumnya digunakan untuk:
• Melakukan klarifikasi atau meng-update strategi bisnis;
• Menghubungkan sasaran strategis dengan target jangka panjang dan anggaran tahunan;
• Menjaga dan memastikan elemen-elemen utama (key elements) dari strategi bisnis berjalan;
• Memasukkan tujuan strategis ke dalam alokasi sumber daya proses;
• Memfasilitasi perubahan organisasi;
• Membandingkan kinerja berbagai unit usaha berdasarkan kondisi geografis;
• Meningkatkan pemahaman seluruh perusahaan visi dan strategi bisnis.
Referensi
Epstein, Marc, and Jean-François Manzoni. "Implementing Corporate Strategy: From Tableaux de Bord to Balanced Scorecards." European Management Journal, April 1998,pp. 190-203.
"Harvard Business Review Balanced Scorecard Report."Harvard Business Review, 2002 to present (bimonthly).
Kaplan, Robert S., and David P. Norton. Alignment: Using the Balanced Scorecard to Create Corporate Synergies. Harvard Business School Press, 2006.
Kaplan, Robert S., and David P. Norton. "The Balanced Scorecard:Measures That Drive Performance." Harvard Business Review, July 2005, pp. 71-79.
Kaplan, Robert S., and David P. Norton. The Strategy-Focused Organization: How Balanced Scorecard Companies Thrive in the New Business Environment. Harvard Business School Press, 2000.
Kaplan, Robert S., and David P. Norton. Strategy Maps: Converting Intangible Assets into Tangible Outcomes. Harvard Business School Press, 2004.
Niven, Paul R. Balanced Scorecard Diagnostics: Maintaining Maximum Performance. John Wiley & Sons, 2005.
Niven, Paul R. Balanced Scorecard Step-by-Step: Maximizing Performance and Maintaining Results, 2d ed. John Wiley & Sons, 2006.
Sumber : Darrel K Rigby. Management Tools 2007, an Executive guide. 2007
Tulisan ini saya posting juga di web ExcellentBee
Artikel menarik lainnya :